.
07/06/2018
Price Increase Effective Immediately
Date: July 6, 2018
To: Our Valued Customers
From: Rob Strahs, Vice President Marketing
Subject: Price Increase effective July 6, 2018
The recently enacted tariffs of 25% on products produced in China included many common copper and aluminum wire and cable products. This includes such items as:
--Aluminum and Copper SER
--Aluminum SEU
--Aluminum THHN, XHHW and USE
--Aluminum 600V UD
--Aluminum Service Drop
--Central Office Power Supply Cable
--Fire Alarm and Security
--Portable Cord
--MC Cable Copper and Aluminum
--Etc.….
We expect to see industry price increases on these products in the 20% range as purely domestic manufactures had previously incurred 10% tariffs on raw material such as Aluminum rod and steel strip and pure Chinese importers will incur the full 25% tariff. We have also been experiencing strong demand for our products and with the new tariff increases we project that the market may see reduced supply, thus prices are likely to rise.
Due to our significant inventories and global production facilities we expect to maintain our high service levels. However, we will also be initiating price increases in the 10 to 20% range effective immediately. We will watch market conditions closely and react as needed to what could be very volatile pricing in the coming weeks and months.
Please do not hesitate to contact us with any questions.
---
.
06/26/2018
Odessa Open House
Please join us this week at our Odessa Open House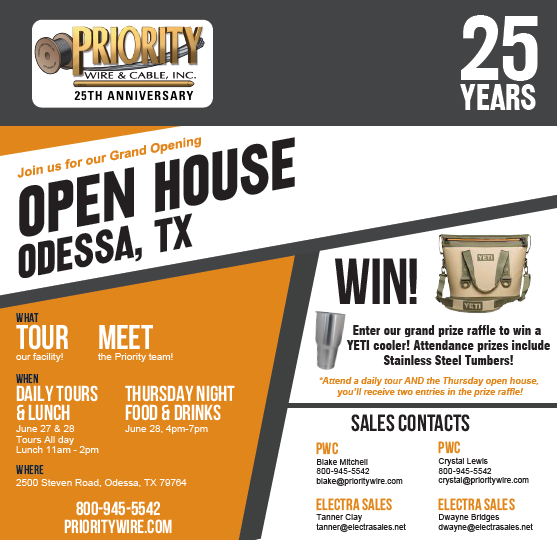 ---
.
04/23/2018
Houston Open House
Please join us this week at our Houston Open House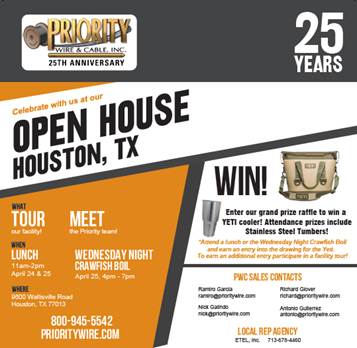 ---
.
04/19/2018
2018 Upper Midwest Electrical Expo
Chris Caruso from Priority Wire & Cable & Travis Olson from Grissinger Johnson are all ready to talk with the attendees at the 2018 Upper Midwest Electrical Expo - North Central Electrical League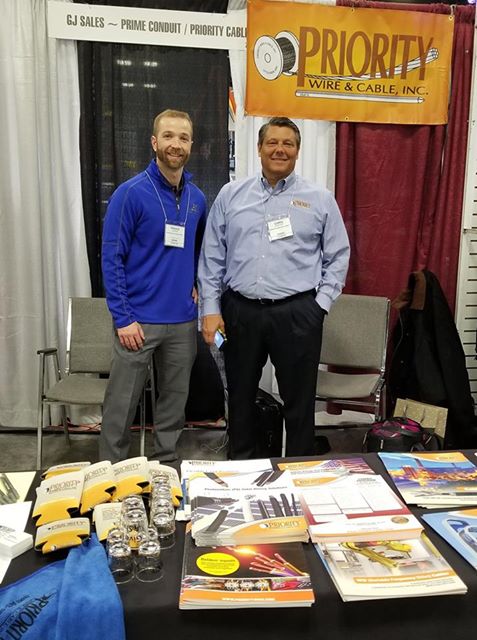 ---
.
02/21/2018
Aluminum Product Price Increase
Due to the continued rise in aluminum costs, Priority Wire & Cable will be issuing a price increase for aluminum building wire and aluminum MC cable effective February 26th. This increase will be approximately 8-12%.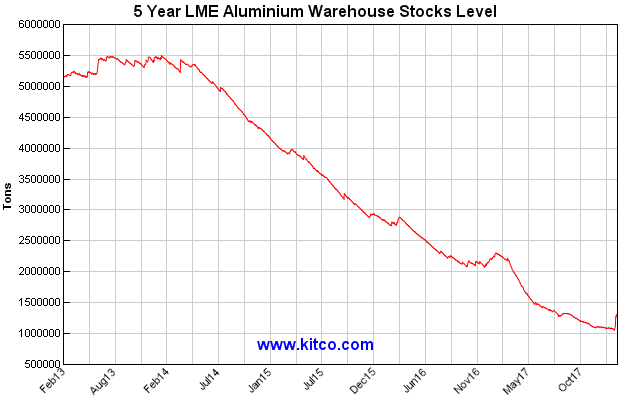 - All open quotations with expiration dates beyond February 23rd are now valid until close of business Friday February 23rd.
- Backordered material already on order prior to this announcement will be honored at the pricing the order was entered.
- To receive our current pricing on new orders for immediate shipment, they must be placed before close of business Friday February 23rd.
Thank you for your understanding and support.
Contact your Priority Wire & Cable sales team for additional information.
---
.
01/22/2018
Welcome Dana Berberet
Priority Wire & Cable, Inc. welcomes Dana Berberet as the new Midwest Profit Center Manager. Dana will be responsible for the Ohio, Michigan, Indiana, Northern Illinois, Wisconsin, Minnesota, North & South Dakota territories. Dana will be managing the corresponding inside sales teams and coordinating with our agency and distributor partners.
Dana brings a wealth of knowledge to Priority Wire & Cable from her previous work experience, which included GE Supply, Callas/Kingsley Electrical Sales and Mulcrone & Associates.
---
.
01/15/2018
Welcome Pat McClafferty
We are pleased to announce that Pat McClafferty has joined us as Director – Utility Market. He will be working with us to provide an increased focus on the sales and sales support of Priority Wire & Cable's utility products. He will be interfacing and transacting directly with electrical utilities, utility distributors, as well as our Manufacturer's Representative Salesforce.
Pat's utility background goes back to his father who was a lineman for PG&E in California. Prior to joining our team, Pat was Vice President Utility Sales & Service at Arkansas Electric Cooperatives, Inc. (AECI) where he served for over 23 years. He has also worked with Diversified Electric Supply and Graybar.
In the past, Pat has served as President of the Arkansas Electrical League, President of Electric Utility Distributors Association (EUDA), and a member of the supplier's advisory council for Utility Purchasing Management Group (UPMG).
---
.
01/01/2018
Price Increase effective January 1, 2018
Due to the rise in commodity prices (copper, aluminum, steel and resins) as well as other cost factors we are initiating across the board price increases within the U.S. and Canada from 6 to 10% on our product lines effective immediately.
All indications point to sustained or continued increases in commodities as well as other costs leading us to believe that prices will go up and stay up.
Please contact your Inside Salesperson for current price and delivery.
---