Prysmian's Low Voltage AIRGUARD™ Power Cables are primarily designed for applications in environments found in heavy industrial and offshore markets. Its rugged polymeric AIR BAG™ armor eliminates the concern of kinking or breaking of corrugated aluminum armor during installation or subsequent bending in service, as well as poor performance in areas of high vibration (e.g. motor connections) that is often associated with Type MC-HL cables. The AIR BAG™ layer also provides superior protection from the ingress of harmful fluids, hydrocarbon and chemicals. AIRGUARD™ has superior crush and impact resistance as compared to MC-HL cables when tested in accordance with UL-2225. It provides a safer alternative to MC-HL due to its "No Knife/No Saw" preparation.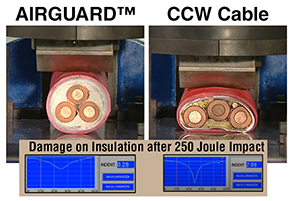 AIRGUARD™ has a more compact design and is less rigid, so it is easier to install as well as making it ideal for longer cable lengths. It has a smaller minimum bending radius as compared to metal clad cables, as low as 4X cable diameter.
Low Voltage AIRGUARD™ has been designed to reduce installation costs in the field while improving the overall cable performance as compared to Type MC and MC-HL alternatives, which can often be costly, time consuming, and difficult to install. Installation cost is reduced as bulky, expensive metallic armor grounding glands are not required. AIRGUARD™ connections are performed in minutes, not hours. Installation makes terminating & splicing safer for electricians, and it greatly reduces the chances of damage to the conductors.
Low Voltage AIRGUARD™ is rated for installation in cable tray, for exposed runs (Type TC-ER), conduit, duct, direct burial, and aerial applications in Class I Division 2, Zone 2, and unclassified locations. It is permitted for use in Class I Division 1 and Zone 1 hazardous locations (Type TC-ER-HL) in accordance with National Electrical Code (2020) Sections 501.10(A)(2)(3) & 505.15(B)(i). It is rated for -40°C/ -35°C cold bend/ cold impact per CSA 22.2 No. 03.
Low Voltage AIRGUARD™ Advantages
Reduced installation costs while improving the overall cable performance in harsh environments!
Strippability – No Knife!? No Saw? No Problem! The ability to strip a cable quickly without damaging the phase conductors is critical in reducing installation costs. The combination of Low Voltage AIRGUARD'S™ unique design and strategically placed rip cords allows it to be stripped up to three times faster than Metal Clad cables without the worry of nicked or damaged phase conductors. Low Voltage AIRGUARD™ cables do not require the use of a saw (as in the case of CCW cables) which results in increased personnel safety and reduces the potential for damage to the underlying core.
Chemical Resistance – Industrial plants require cable that will stand up to corrosive chemicals and hydrocarbons. Whether installing in a direct burial application, in tray, or in the air, Low Voltage
AIRGUARD's™ proprietary polymeric layer provides the best protection in the market for the broadest range of chemicals.
Mechanical Resistance – AIRGUARD™ is known for its mechanical strength. When Prysmian's R&D engineers were designing Prysmian's new Low Voltage AIRGUARD™ it was imperative that the traditional toughness of the prior medium voltage designs be passed on to the Low Voltage AIRGUARD™. In crush and impact testing, it is proven to be significantly stronger than metallic armored cables.
Flame – Not propagating a fire is a critical design parameter of any cable for the industrial market. Low voltage AIRGUARD™ passes all the industry standard flame tests, including IEEE 1202, FT-4 and IEEE 383
210,000 BTU flame test.
VFD – Low Voltage AIRGUARD™ VFD cables are designed with three symmetrically placed ground wires and an aluminum or copper sheath to contain the generation of high frequency electromagnetic interference (EMI) imposed on the cable when installed in a circuit containing a Variable Frequency Drive. In the event of catastrophic cable damage, this shield, plus the 3 segmented ground wires, should contain any arcing and effectively conduct system fault current to ground.
Product Range – Low Voltage AIRGUARD™ is available in 600V Power, Control & Instrumentation, from #16 AWG to 1000 kcmil. Standard stocked items include instrumentation cables, control cables to 37/C, and power cables to 3/C 750 kcmil.
LSOH Option – AIRGUARD™ is available in Low Smoke Zero Halogen (LS0H) construction. Add "LSOH" to the part number to specify as such.
Prysmian AIRGUARD™ Low Voltage Ratings/Approved Tests/Industry Specifications
S095-658 (NEMA WC70) Cable Rating XHHW-2 Multiple Conductors
UL 44 (XHHW-2) 600V Direct Burial Sunlight Resistant Oil Resistant
IEEE 383 & 1202 Flame Retardant and CSA FT4 Flame Test
UL 1277 TC-ER NEC Article 336.10(7) Exposed Run Rating
UL 2225 TC-ER-HL
NEC Article 501.10(A)(2)(3) TC-ER-HL Class 1 Division 1
NEC Article 505.15(B)(1)(i) TC-ER-HL Class 1 Zone 1
CSA 22.2 No. 03 -40°C/-35°C Cold Bend/Cold Impact
Max Operating Temperature 105°C/Short Circuit Temperature 250°C
MSHA Mine Safety & Health Administration
IEEE 1580 Marine Shipboard Cable Rating
ABS American Bureau of Shipping Type Approval
See Prysmian AIRGUARD™ Low Voltage cable offered by Priority Wire & Cable
Prysmian AIRGUARD™ Overview
Contact us at
(800) 945-5542 in U.S.
(877) 611-5122 in Canada