Prysmian's Medium Voltage AIRGUARD™ cable is a direct replacement for continuously corrugated and welded aluminum armored cables (*in Class 1 Div 2 locations). It can be installed in cable trays, conduit in air, direct burial, underground duct, isolated in air, in wet and dry locations, and with messenger. Its polymeric armor called AIR BAG™ delivers 5X the impact performance and up to 3X the sidewall bearing pressure limit (at 3000 lbs per rad-ft) of CCW products. This also enables longer pulls than with CCW type cables.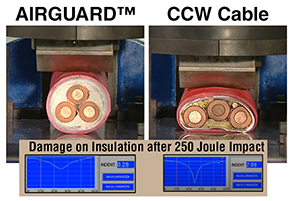 AIRGUARD™ cables save money on installations. One of the limiting factors with CCW type industrial cables is the maximum length the cable can be pulled due to mechanical forces. This limiting factor is due to its relatively low maximum sidewall bearing pressure (SWBP); typically between 1000 pounds and 1500 pounds per radial foot. AIRGUARD™ cables can withstand SWBP of an incredible 3000 pounds per radial foot which gives the customer outstanding reliability during long pulls. This results in fewer splices which leads to improved cable reliability and lower installation costs.
Cables, in most industrial applications, must also be protected from oil based products (hydrocarbons) as well as acids and bases that can cause electrical cables to fail over time. AIRGUARD's™ patented DrylamTM layer which consists of an aluminum laminate and hydrocarbon resistant covering provides incredible protection that exceeds ASTM and UL standards for oil resistance.
Prysmian AIRGUARD™ Medium Voltage Ratings/Approved Tests/Industry Specifications
ICEA S-93-639 (NEMA WC74)
UL 1072 Type MV-105, For CT use Direct Burial/Sunlight Resistant
UL 1277 TC-ER Exposed Run Rating
IEEE 1202 Flame Retardant and CSA FT4 Flame Test
CSA Cold Impact/Bend Test at -40°C
MSHA Type MP and Type MP-GC
IEEE 1580 Marine Shipboard Cable Rating
ABS American Bureau of Shipping Type Approval
ASTM oil Resistance Tes
NEC Rated Class 1 Div 2
See Prysmian AIRGUARD™ Medium Voltage cable offered by Priority Wire & Cable
Prysmian AIRGUARD™ Overview
Contact us at
(800) 945-5542 in U.S.
(877) 611-5122 in Canada